Understanding the difference between customer service and customer experience can make all
the difference in how you approach your patients. Three aspects that help turn ordinary
service into extraordinary service: making it personal, relevant and meaningful for the
customer.

A recent Twitter post about a dog named Gus illustrates this difference. Away on a trip, Gus'
owner learned that her dog had suddenly died. Dog owners, myself included, know the
heartbreak that occurs when we lose these faithful companions. Upon returning home, Gus'
owner Anna noticed an unopened bag of expensive prescription dog food and contacted online
pet food supplier Chewy to see if she could return it.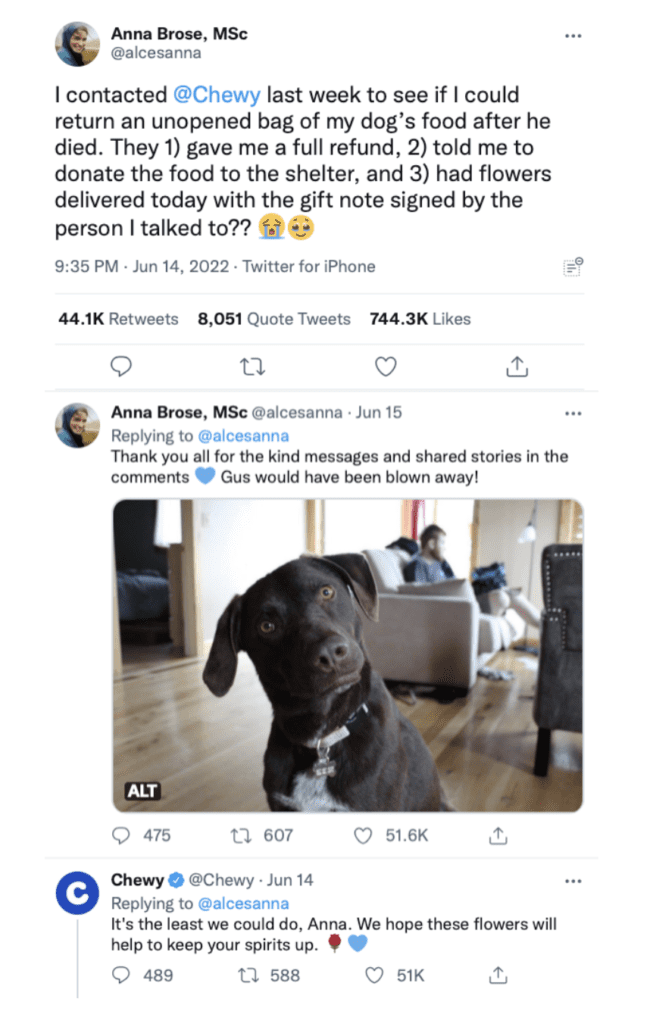 As shown in her tweet, the customer service rep refunded the purchase, asked her to donate
the food to a local shelter, and sent flowers as a condolence. That's a wow moment in the
midst of a loss.

This story is worth unpacking as it can inform our own attempts to improve the patient
experience. The basic service was performed (ie, the refund). But the company went well
beyond that in this single interaction. I suspect that this is not an isolated incident but baked
into their DNA. From their website:

At Chewy, we strive to deliver the best products with the best service – and we want to
become even better. Happy customers are always our #1 priority, and our team members
are passionate about finding new ways to wow both pet owners and the industry at large.

PERSONAL: Chewy has invested in the system(s) to be able to capture the information and act
upon it. Traditionally, doctors have kept notes in a patient's chart to be able to recall specifics
about the patient. Whether paper or digital, every patient record needs to be able to capture
and recall data about each patient's family, occupation, recreation and dreams (FORD).

RELEVANT: The company clearly trains it employees to listen and be on the lookout for ways to
learn about their customers' needs. This type of training is ongoing and cannot be completed
during a new employee onboarding or one-time customer service workshop. It must be regular
and ongoing if it's going to stick and change employee behavior.

MEANINGFUL: I bet that customer service rep didn't have to get approval by management to
send flowers. This is what I mean by a patient-focused culture, where front-line employees
have permission and authority to take care of patient needs whenever something goes awry in
the experience.

RIP Gus and kudos to Chewy for showing us the difference between service and experience.
Read in The Washington Post: https://apple.news/A8ViBd1IcSP2WDtSVMyvEIA