Authenticity is one of those words that conjures desire. Everyone wants to be authentic, but few know how to get there. Does your practice hit the mark when it comes to providing authentic patient experiences?
Authenticity can be found through an encounter with another human being, a visit to a special place, or the purchase of an item. Each of these hold special significance because they affect how we feel on the inside. The shorthand version of the word – "real" – is used to distinguish someone or something from it's opposite, "fake." 
Gettin' real, the real real, or the real thing are all examples of how customers describe something as authentic.
Authenticity is an apt description for the dividing line between service and experience.  Services are performed on behalf of the customer; they happen outside of us. Lawn mowing, personal training, and house cleaning are examples of the service economy, which employs 80% or more of the population. 
Experiences are different because they are inherently personal and offer unique meaning to the customer. They happen "inside" of us and are emotion-generating in nature. This helps explain why people can't help talking about a great experience, while they likely don't brag about a recent service.  
Doctors and practices that focus on patient experience will naturally wrestle with what it means to be authentic in the eyes of their patients. This is counter-intuitive to the medical training, which instills this notion of serving the healthcare needs of the community. This leads to the healthcare myth that you must be "everything to everybody" in order to succeed as a healer. Marketers will tell you that's a mistake, the business equivalent of the old saying, "If you don't stand for something, you'll fall for anything.",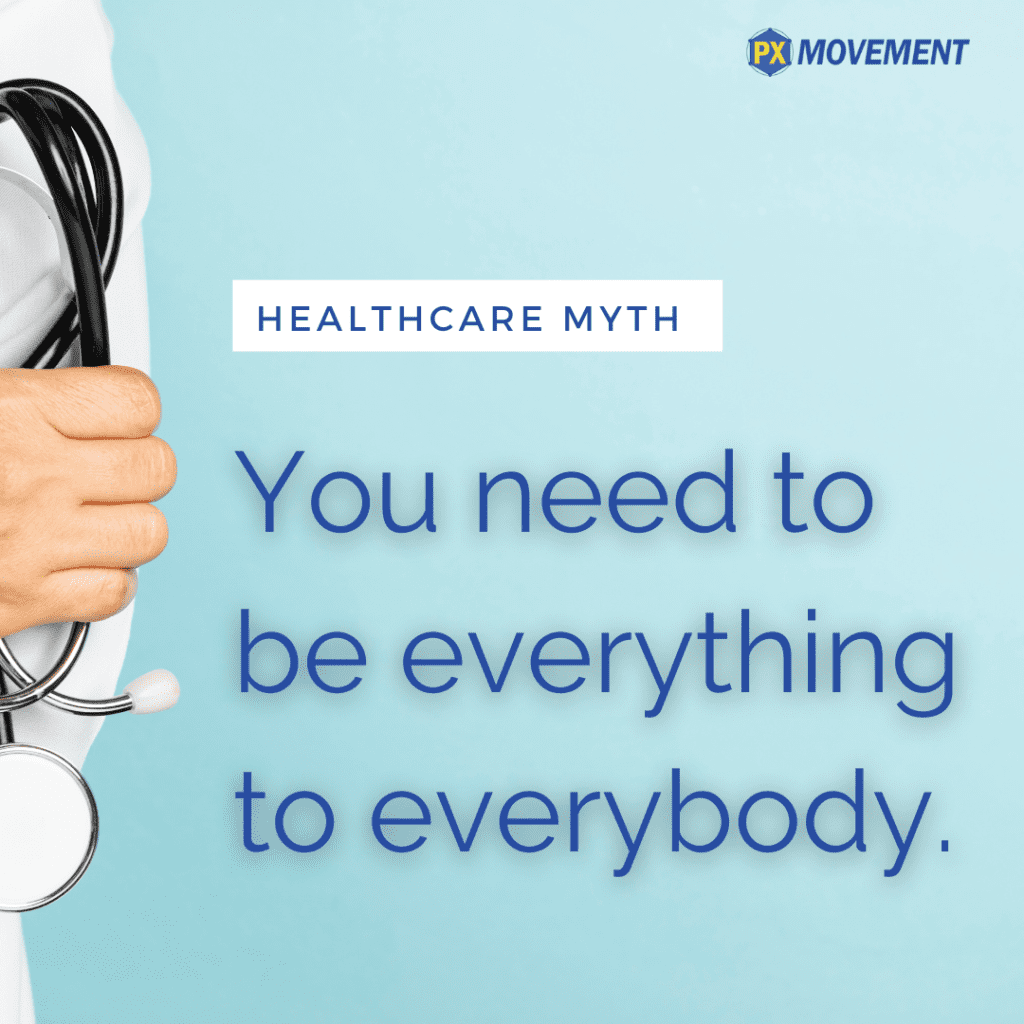 How to be Authentic in Your Practice
Being authentic means having a great opening line when meeting patients for the first time. It also means not trying to attract every type of patient to your practice and instead looking to attract patients that share similar core values. This is a reality for all businesses today. Consumers are paying much more attention to who they're purchasing from and what they value. 
This, in part, explains the rise of social capitalism where companies seek to improve their communities in addition to their bottom line. Toms' Shoes was one such company that donated a pair of shoes for every pair they sold. One of the best explanations comes from sociologist Virginia Postrel: "consumers are moving from saying "I like that" to "I'm like that" in their purchase behavior."  
Authenticity is a key premise behind blockchain technology, which is the foundation of Bitcoin and crypto currencies. It is now also being used by luxury brands to give consumers confidence that when they purchase a Prada handbag or Cartier watch they are indeed getting the real deal and not a fake.  
In Beyond Bedside Manner, Insight #3 is titled Being AUTHENTIC. In this section I offer an example you can learn from: the gift doctors typically give to a patient after having an elective procedure with the practice. This is an area where the practice can strive for authenticity. Perhaps you replace that logo-branded t-shirt with a charitable donation to a favorite cause.  
Check out the book to learn even more about ways your practice can be authentic.
It doesn't need to be expensive to be authentic; it just has to be perceived by the patient as genuine and reflective of a core value. Make it real and make it count!
Want more ideas for creating authentic patient experiences?