I devoted a great deal of time these past 4 years to writing a book on what needs to change in healthcare (get your copy!). Beyond Bedside Manner centers around what happens when a patient goes to see the doctor. It's been a remarkable journey in capturing the best ideas for improving the patient experience, which I've gleaned over the past 30 years in working with doctors and companies on numerous technology launches (including LASIK in the mid 1990s).  If you've ever written a book (or started down the path), you know how difficult a task it is.  
Commitment. Time. Energy. Frustration. Joy. 
I learned a lot along the way and had guidance from a great group of people who kept me pointing in the right direction to get it finished. It was amazing how certain individuals came into my life at just the right moment when the next step in the process needed attention. [Jeremy Brown you know what I'm talking about!].  

As of 09-09-2020, Beyond Bedside Manner is officially launched!
The Book is Released. Now it's Time to Launch the Movement.
What I also learned from the 100+ colleagues who took time to read an advanced copy is that while the book is solid (you can see the reviews on Amazon), the effort to bring real and lasting change to medical environments requires more than a book. It takes more than a village, more than an army, and certainly more than a guy who happened to devote his career to helping doctors be better at what they do. It takes a movement!
The birthday of the book marked the end of one chapter and the beginning of another. 
09-09-2020 is also the launch date of the PX Movement. We had an event where 70 friends and colleagues joined us for a Virtual Happy Hour as I got to interview 3 incredible people who understand what it takes to deliver on the promise of an exceptional patient experience.  
It was, to say the least, a moment in time I will always remember. Jim Wachtman, Vance Thompson, and John Dijulius spoke powerfully from their perspectives on what needs to change and what is possible. Kevin Dulle brought his talent in visual translation to capture the event in real-time. And my family and friends were in the room with me while we toasted to people across the country to mark the moment.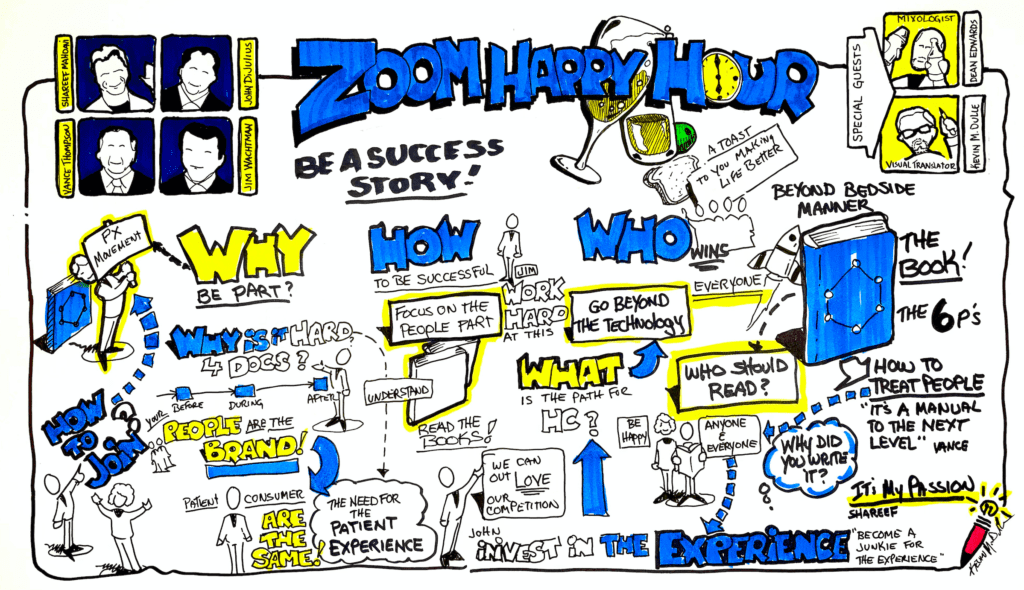 Together we will set the new standard for the medical community
so all patients can have better experiences.
We invite all of those who are in the business of healthcare – doctors, administrators, front-line teams, industry sales and marketing professionals, practice consultants – to join the PX Movement. Because our patients deserve better!