When expectations are high, the risk of failing to meet them are great. There's a lot we can learn and apply in medical practices from a disappointing fine dining experience at Disneyland.  
On a recent trip to Southern California, my family was able to spend a day at Disneyland and celebrate my wife's birthday with a special dinner at the Napa Rose, Disney's take on a fine dining experience meant to evoke the wine country of Northern California.
We had chosen this venue based on reputation as well as a previous visit years ago when our children were much younger.  Now adults, they were in for a real treat that combined atmosphere, proximity to the park, and an ambience that says "this is special."  However… the evening was anything but special; a major letdown that had nothing to do with the food, which was extraordinary.   
What went wrong? Expectations were already high, and they kept getting higher until the reality of the experience brought them crashing down.   
Once seated, our server warmly introduced herself and said how much she strived to create an incredible dining experience. I thought to myself "wow, this is going to be great."  But what started off strong didn't last. Our server, with additional tables seated shortly after us, got overwhelmed. The explanations of each course and the paired wine were robotic not romantic. Our server would literally turn and head to another task before she finished her sentences. We were asked early on if we had any time constraints and let her know that this was our evening to enjoy. Regardless, the several hours we spent felt rushed with uneven pacing and timing. The server performed her tasks but failed to deliver on what she had promised at the beginning, leaving a strong impression on us as guests.  
To be fair, some of this was beyond the server's control. The pandemic had shut down the park and the restaurant for a period of time, affecting everything from the reservation system to the bread service. But even that time period, we were told, had given the restaurant the opportunity to make some positive changes.  
The next day, we discussed our experience and I was proud to hear the comments especially from our now adult-age kids, two of whom have worked in restaurants. They were more critical than me! After offering to provide feedback to management, which they welcomed, I turned that conversation into an email sent a few days later.  
So why am I talking about a poor dining experience on my blog dedicated to improving the patient experience? Because this one evening was chock full of lessons that can be applied to medical practices.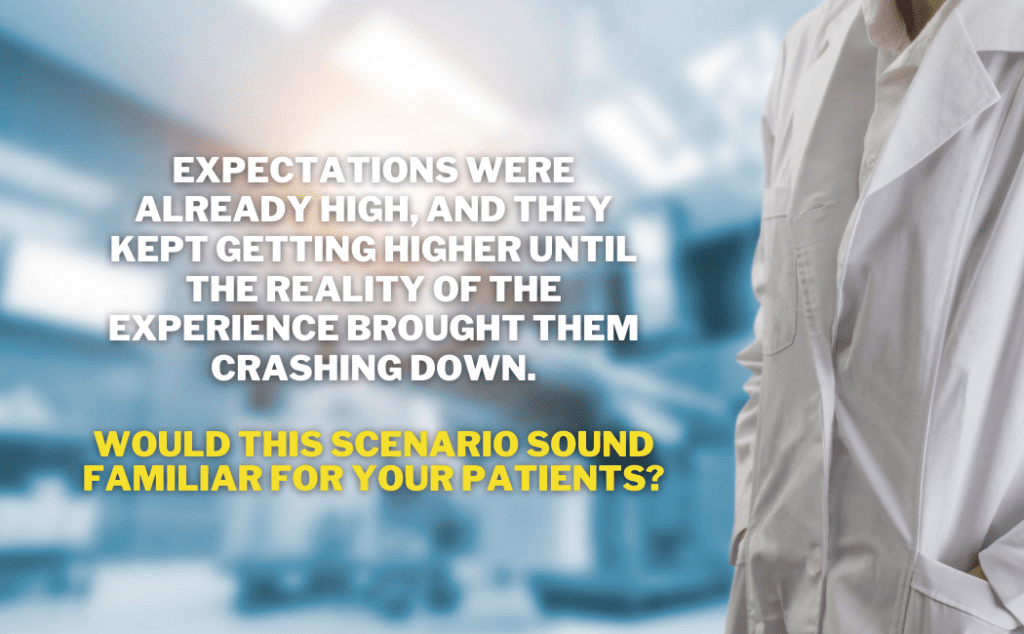 4 Lessons About Patient Expectations
1. Don't promise a 'great experience'; let it unfold
A great experience is expected, especially at a place known for such. It's a mistake to heighten expectations further by claiming this either in front of the customer or ahead of time via promotional efforts. Truly great experiences are ones that unfold over time, often a series of mini-events or moments. They are planned, practiced and executed well because the team has been well trained.  
2. We recall the way we were treated long after we forget the specific activity
The most important part of an experience is how we are made to feel. No matter how good the food (or for medical practices, the clinical outcome), if we aren't made to feel special or important, this will absolutely affect the overall experience. Remember that emotion trumps logic.  
3. Time is more valuable than money
In the Experience Economy, time is the currency. Even if the management were to offer to compensate us, we cannot get back the time that was dedicated to a family celebration.  Given that our kids now live in different cities, this family reunion made that time even more valuable. The goal of any experience should be that it was time well spent rather than time wasted.     
4. You often get another chance
When things go wrong, it's up to the provider to figure out what will make things right.  This may be monetary, but often it is not. Rather, what the customer is looking for is acknowledgement, to be listened to, and to know that management cares enough to make sure this doesn't happen to others. Service Recovery should be planned with the same thought as the experience itself.     
How well are you managing expectations at Your Practice?
Patient Experience is all about managing expectations. What the Napa Rose teaches all of us is that it is far better to underpromise and overdeliver than the other way around.
Learn what your patients think and see if you are meeting expectations! Use this sample PX survey to understand the questions that really matter.
More insights into meeting (and exceeding) your patient's expectations