Check out this real-life story from LEGO's customer service department that teaches us to respond in a manner that speaks to the heart of the customer, as well as the heart of the problem.  
Today I want to share a great story about how one large company made things with their customer. Before that, here's an update from a recent blog describing the poor service during a birthday celebration at Disney's Napa Rose: Having taken the time to call and then email the manager with a detailed account, there's been zero response some 60 days later. That was a missed opportunity that leaves me thinking that at least this Disney establishment just doesn't get it.  
Contrast that with a story of a dad and his son following their purchase of a LEGO set from Star Wars. This one was over 3,000 pieces with a 400-page manual and expensive at $350. That big-time father-son project got interrupted when about two-thirds of the way through they discovered a bag of pieces was missing. Uh-oh. Because it's a hard-to-find set, the dad couldn't just go to the store and expect to exchange it.  
He contacted LEGO via their website and received the reply shown below: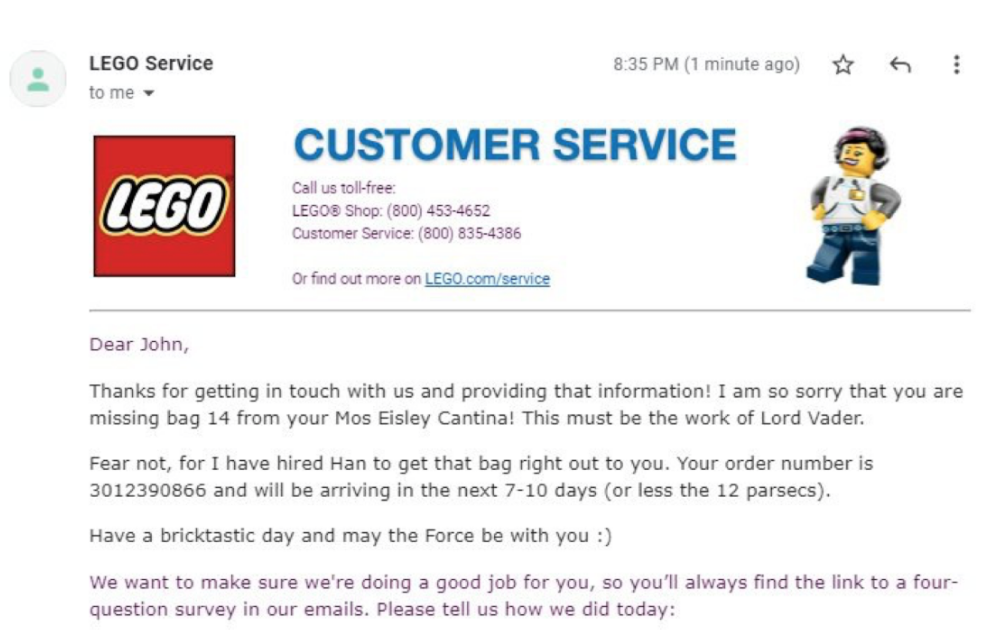 What Can Doctors Learn From LEGO?
Just reading this reply from a customer service rep made my day. It is packed full of lessons we can take away and use in medical practices:
They owned the problem and apologized
They solved the problem by sending out the missing pieces
They personalized the response 
This LEGO employee understood that somebody spending hundreds of dollars on one of their products is a true devotee. They had the freedom to respond in a manner that spoke to the heart of the customer as well as the heart of the problem.  
This story, which first appeared in Inc. Magazine's online edition, ends up being a huge PR coup for the company as the customer service response ends up delighting the customer.  
Have you empowered your team members to similarly delight the customer, including when things go wrong? You can't control everything that happens in a medical practice.  Things go wrong, aka service failures. But you can and do control how you respond in those situations. May you make service recovery a priority…and may the Force be with you!