How Can Book Now Pay Later (BNPL) and Pay Over Time (POT) Change the Equation When it Comes to Elective Procedures?
For years I've seen how the way that doctors approach price – especially when deciding what to charge for elective procedures – has limited their ability to grow demand in their practices. The logic they use to rationalize their pricing strategy often centers on either demographics ("my patients won't pay that much") or external factors such as the state of the economy.   
Data analyzed by our firm on the relationship between price and demand in LASIK, breast augmentation and hearing aids showed that demand for these elective procedures does not increase when prices are lowered. In fact the opposite seems to happen, a phenomenon economists call inelasticity of demand. 
How does this concept play out in the real world? Take this example: The well-meaning doctors who lowered their fees in anticipation of a spike in demand may have actually seen a temporary increase. But, the havoc wrought on the financial statements would suggest that this was a losing proposition in terms of operating profitability.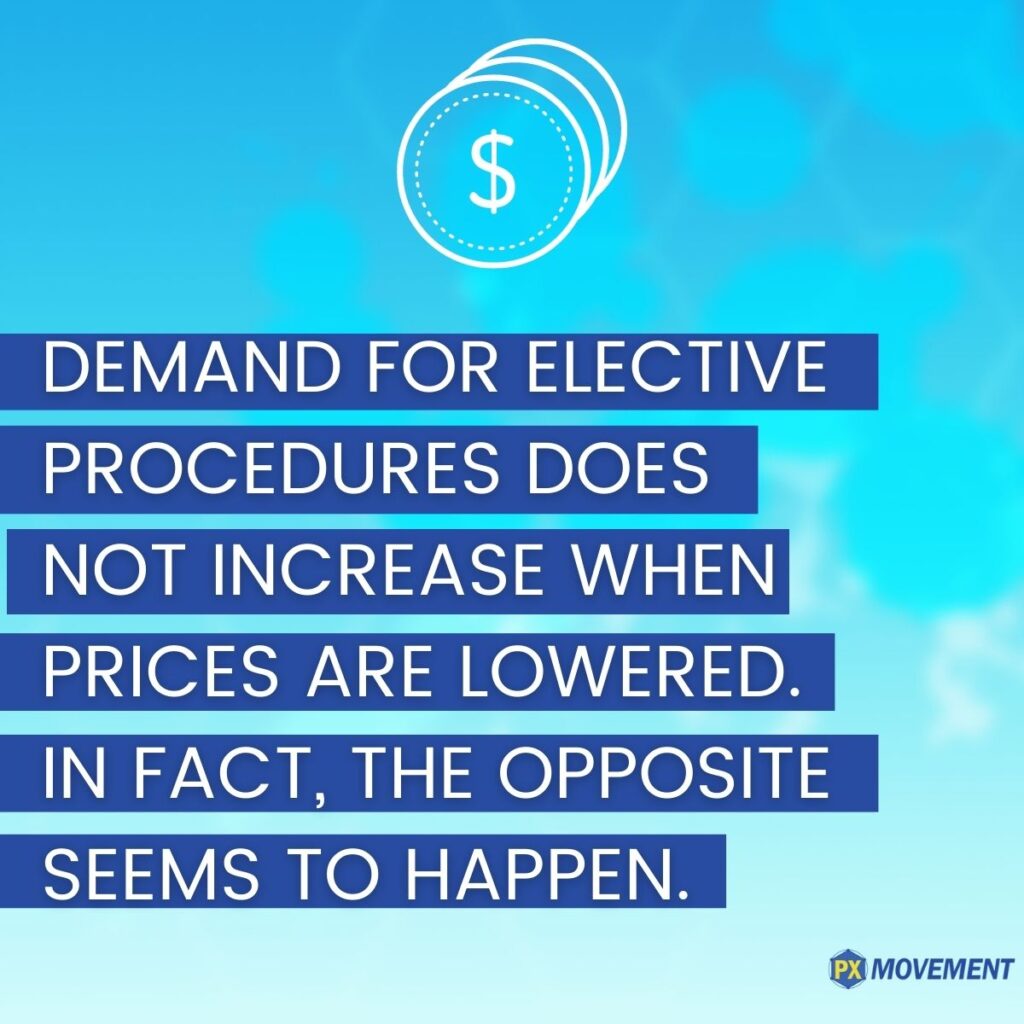 How Can We Increase Demand for Elective Procedures?
But the question remains: how do we increase demand? A consumer study done by PYMTS.com in June 2019 offers some valuable insights. They found that although 31 million Americans had an elective procedure in the 6 months ending April 2019, payment plans would have turned another 15 million Americans into buyers.    
Another data point from the study: nearly three in 10 consumers spent more than $2,500 on their elective procedure(s). This is critical information, especially when placed in the context of today's medical reality where deductibles can easily be more than that. From the patient's perspective, the cost of an elective procedure is now "competitive" with the cost of their deductible.   
If you're in the refractive, aesthetic or cosmetic dental categories, this study makes clear the opportunity. And if you have a patient financing vendor but have a hunch that there may be a better program for your practice and your patients, I recommend checking out these two patient finance companies:
PatientFi has brought "buy now, pay later" or BNPL innovation to the patient financing space. This service has exploded on the cosmetic scene over the past several years.
Alphaeon Credit has a strong "pay over time" offering and focus on customer service.  This service has gained solid traction over the years, especially in ophthalmology.
Interested in learning more about increasing demand for elective procedures? I encourage you to join the PX Movement and get 90 days of insights delivered right to your inbox.